In search for the best shave ice on Maui? Look no further because Ululani's Hawaiian Shave Ice has been rated #1 by Yelp, Trip Advisor, Urbanspoon and Foursquare. Bringing some of the best shave ice to Maui, Ululani's Hawaiian Shave Ice makes the finest, quality shave ice with syrups made from 100% pure cane sugar, purees, natural fruit juices and extracts. They use filtered water for their shave ice and local ingredients, including Roselani's Ice Cream and homemade mochi to create the best shave ice.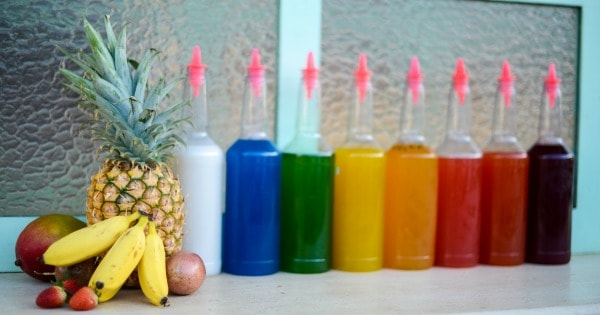 As soon as you approach Ululani's, you're greeted by the friendliest staff who share the 'Aloha' spirit and make this their foundation. First pick which size you're going to get: micro, small, medium or large. They have large servings and even the small can be shared. Choose from their list of flavors, mix and match your own flavors or pick a local favorite combination such as the 'No Ka Oi' which includes coconut, mango and lilikoi. For those who wish to have sugar free flavors, they offer those too.  Then select the add-on's including, Maui made Roselani's Premium Gourmet Ice Cream, sweetened condensed milk mixture, shredded toasted coconut from Sugar Beach Bake Shop, azuki (red) bean and hand-cut mochi pieces. They include the ice cream at the bottom before adding the shave ice and its onolicious (delicious)!
Next time you're looking for Hawaiian Shave Ice, stop at Ululani's. They have multiple convenient  locations around Maui in Lahaina, Kihei, Wailuku and near the airport in Kahului. Ululani's Hawaiian Shave Ice is not only a tourist favorite but a local favorite too! What is your favorite flavor or flavor combination at Ululani's Hawaiian Shave Ice?

* Photos Courtesy of Ululani's Hawaiian Shave Ice