Maui Hawaii Webcam
Kihei Cove Park, Maui Webcam
Aloha! Check out the weather and the surf conditions from our live webcam! Located at our popular vacation rental Hale Ili Ili in South Kihei, this breathtaking web cam view overlooks popular surf and paddle spot The Cove in Kihei which is right at the south point of Kalama Park and is located near popular Charley Young Beach at the north end of Kamaole Beach. Less crowded than your typical Maui Beach, Charley Young is a great snorkeling and bodyboarding spot in Maui, Hawaii.
This peaceful protected cove with its calm waves is perfect for families with small children to play on the shore and splash in the water. Further out, the surf is just right for visitors and locals alike ready to test their mettle and give surfing a try. Most commonly used for beginner surf lessons, many instructors are set up ready to go every day of the week. Whether you want to learn to surf, walk, run, swim, make sandcastles or just take a nap on the sand, The Cove Park near Charlie Young Beach is the place to be! You may even see a Hawaiian green sea turtle pop its head out of the water from time to time.
The swaying palms and beautiful views of the West Maui Mountains on this webcam will have you booking a flight or strapping your rental boards to the car! From surf reports and Maui weather to whale watching, this web cam will show you what you are looking for. You can determine the winds from the tall palms and the day's weather from the bright sun and blue skies. Check out the waves for your surf and paddling report. In whale season, it is even possible to see pods of humpback whales. Just stop by and check out our Kihei webcam before jumping in!
This Hawaii Webcam with its views toward The Cove by Charley Young Beach is second-to-none!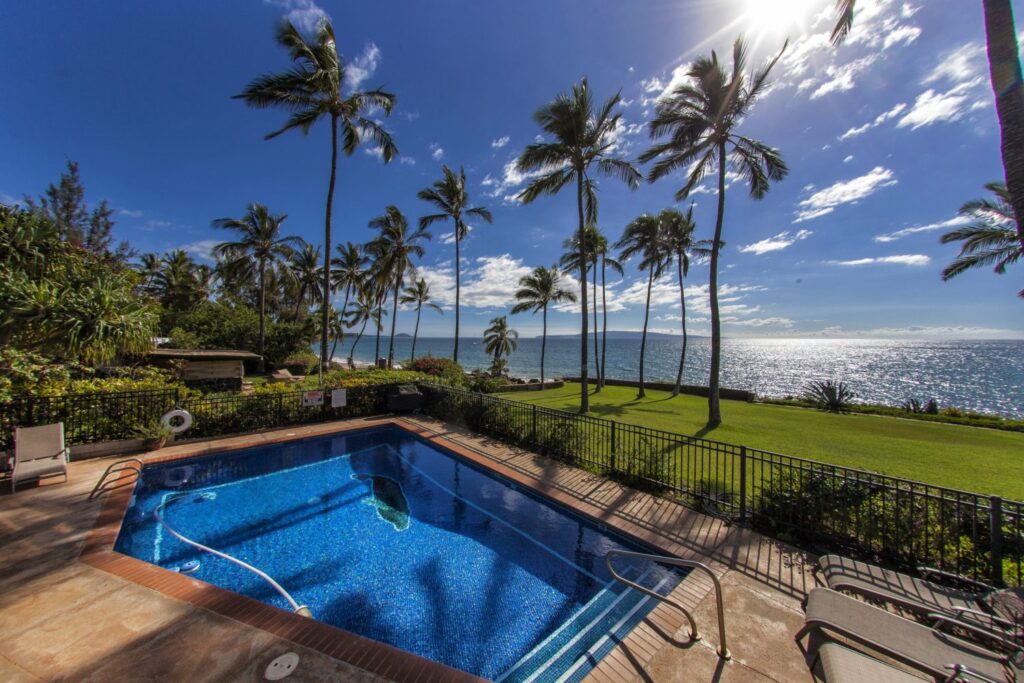 General Daytime View of our Live Hawaii Webcam on Maui