By Kathy Englert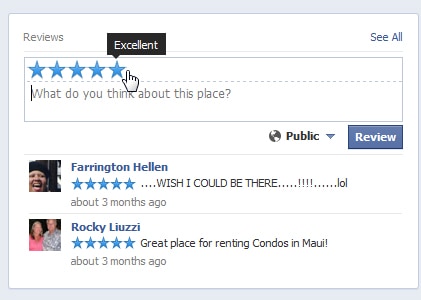 Have you enjoyed your recent stay at one of our fabulous South Maui vacation rentals or waterfront Wailea condos? Did you know you can now show the world just how awesome your vacation in Hawaii turned out by simply visiting our Facebook page?
That's right, now with a few quick taps you can rate your stay and leave a review of your favorite Rentals Maui South Maui vacation rental right on Facebook. to do so, follow these quick and easy steps:
1. Visit our official RentalsMaui.com Facebook page at: http://www.facebook.com/MauiVacationRentals
2. If you are not already, log in to your personal Facebook account.
3. Scroll down our page just a bit until you see the "Reviews" box.
4. Rate your stay on our 5 star scale (5 stars being the highest available rating at "Excellent")
5. Add a quick review of your stay in the box directly beneath your star rating.
6. Press the "Review" button.
And that's it! Your review will be published immediately to our Facebook page for all to see! Whether you have just finished your most recent trip to Maui, or are reminiscing about the great time you had here not too long ago, feel free to leave your review of our vacation rentals and your time on our beautiful island, at any time! Mahalo!