Photos Credit: Kina'ole Grill Food Truck
Food trucks are growing in popularity and when you find "the one," it's like striking gold! Luckily Maui has its share of delicious and affordable food trucks to visit.
By far our favorite food truck convenient to  your stay in Kihei or Wailea is the Kina'ole Grill Food Truck. It can be found on Alanui Ke'ali'i Street right across from the Kamaole Beach Park I, which also happens to be a lovely spot to enjoy your food. You can find park tables here to eat at or bring a towel and enjoy your food with a beach view.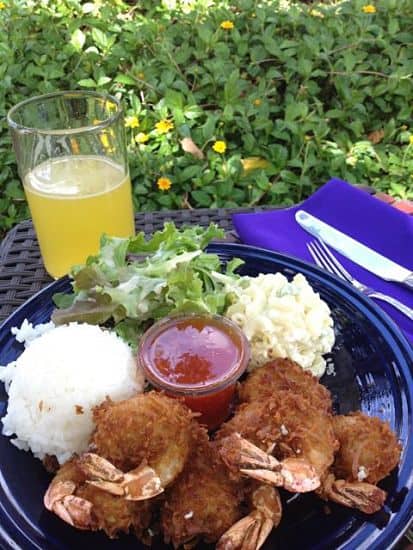 The menu at Kina'ole is delightfully simple. Meals are plate lunch style. Options include Pulled Pork, Panko MahiMahi, Seared Ahi, Coconut Shrimp, Crispy Calamari, Spicy Garlic Shrimp and Garlic Shrimp Scampi. This food truck is able to accept cash and credit, so just grab your wallet and you're set!
Heading into town is a food truck experience! Just across the street from Costco on Haleakala Highway is a large parking lot where you'll find food truck heaven. Cards are accepted here. Should you have a craving for Thai food while on Maui, we highly recommend Thai Mee Up. It offers Thai iced tea, various curries such as Panang and plate lunches like Fried Pork Ribs or Chicken Pad Thai.
Of course, while on Maui you'll want to have poke (Hawaii's famous raw fish salad) and for this you have the Like Poke? food truck. Like Poke? offers every kind of Poke flavoring you can imagine plus extras like Ahi Katsu and Spicy Fried Poke.
Heading westward to Lahaina is a local favorite, Shark Pit, which offers Asian fusion food. Offerings include everything from a Garlic Shrimp Salad to Kalbi Chicken to a definitely one of a kind Furikake Dusted Corn on the Cob. Shark Pit is a great place to try Hawaii specialties. This includes their Loco Moco Fried Rice, Thai Curry Chow Fun and of course, homemade Malasadas. Malasadas are a Portuguese dessert made of dough deep fried in oil and coated with sugar. An absolute must on your vacation!
Hungry yet? We certainly are. Get ready to eat delicious food, soak in the sun and enjoy vacation. Get started now by booking your vacation rental in beachy South Maui.