Packing for Paradise
By Kathy Englert
Experienced travelers know that less is more. We also know that unless you're going to be camping in the wilderness, you can buy all the necessary consumables at your destination.
If your headed to Maui for a vacation, your vacation rental condo will likely have a washer and dryer in-suite, if not, there will be laundry facilities on the premises. Keeping this in mind, you only need to pack for three or four days instead of one or two weeks.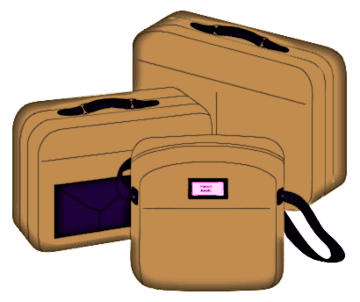 What you should bring:
Pack one outfit for a special dinner or night on the town.
Two or three swimsuits, they don't take up much space.
One pair comfortable sneakers, for hiking.
One pair comfortable sandals, for everyday wear.
A hat, if you wear them, and sunglasses, if you wear them.
Two or three warm weather outfits.
One light jacket or sweater.
A camera, for spectacular Maui sunsets.
An extra bag. If you plan to take home souvenirs, tucking an extra duffel into your checked bag will make packing to go home a lot easier.
A list of important phone numbers. If you become ill or loose your bags, having a list of phone numbers in each of your bags can be a life-saver.
What you should leave home:
Most toiletries, pack only the essentials, you can buy styling products if you need them after you arrive.
Sunscreen, these are notorious for spilling inside luggage. Instead of risking your clothes, just pick up a fresh bottle at the nearest ABC Store, they have a wide selection.
Warm clothes. You won't need your winter coat or wool slacks, not even at the airport, leave them home.
Jewelry. Unless you wear it everyday, leave it home. The warm, humid climate often causes fingers to swell, so some rings may not even fit. Additionally, in an unfamiliar place, on a novel schedule, it is all too easy to misplace something as small as a necklace, brooch, or earring.
Water toys. Most resorts provide pool toys and children's life-preservers are available everywhere. Snorkel gear can be rented for less than two dollars per day.
Fresh fruit and vegetables will be confiscated at the airport, only bring what you will eat on the flight.
Remember not to stress about packing. Anything you forget can be bought when you arrive, even prescriptions can be replaced with a couple phone calls. The best vacations are not the ones where everything goes perfectly, but the ones where you make the most happy memories.