UPDATE: 8/22/2023
The natural disaster that took place on the Westside of Maui earlier this month shocked our residents and visitors alike as we saw an uncontained wildfire ravage the town of Lahaina. The fire took with it much history, many buildings, homes, businesses, and sadly many lives. Over the past couple of weeks we've seen our families grieve, strangers give, and a community come together to support our Lahaina Ohana (family). As hard as times like these can be, the Aloha Spirit goes a long way.
Since the start of the fire on August 8th, we have been receiving phone calls and emails from travelers wondering if they should be traveling to Maui or if they should cancel out of respect for this tragedy. So much information has been circling through the news cycles and social media about if you should go to Maui or not. With those questions in mind, we thought it may be beneficial to proactively share our current thoughts about vacationing to Maui that have been developed by watching what the local government is sharing and by interacting with our friends and local businesses here in Maui.
First of all, a bit of Maui geography is helpful. When you hear the term "West Maui", this is the term locals use to refer to northwest Maui, where Lahaina, Kaanapali, Napili and Kapalua are located. Our condos in Kihei and Wailea are about 25 miles south of this area, in the region that locals refer to as "South Maui", even though we're technically on the western side of the island too.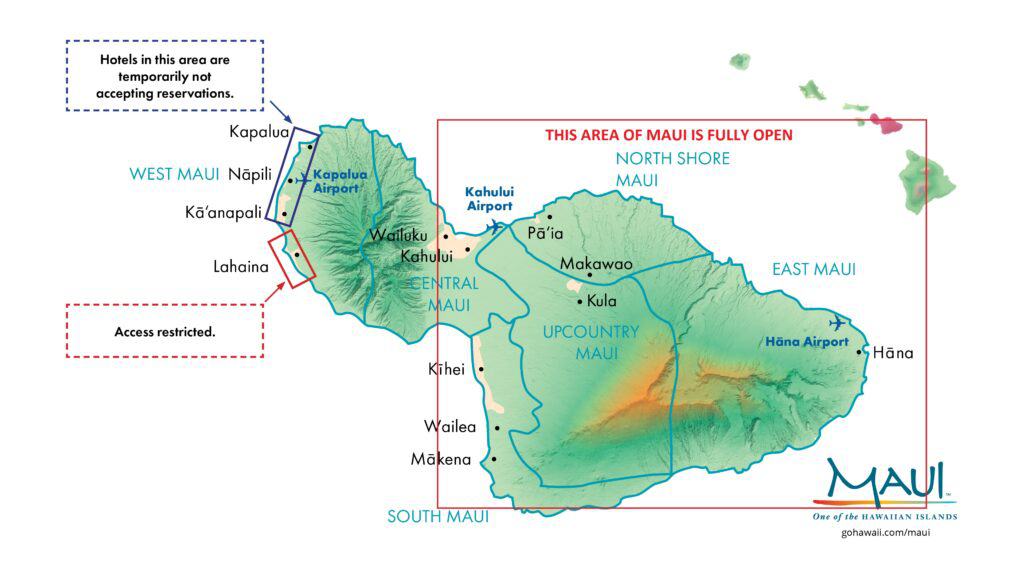 The most recent update from the Hawaiian Tourism Authority states: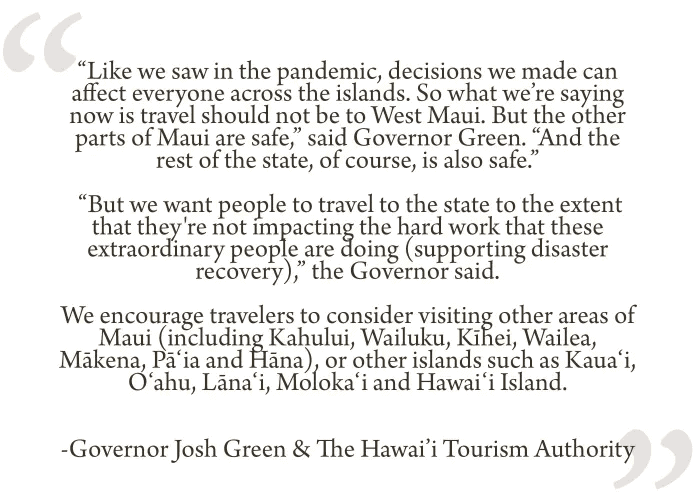 South Maui or the areas of Kihei, Wailea, and Maalaea were not directly affected by the fires. All the beaches, restaurants, grocery stores, roads and airports are open and in great condition. We recognize that there are many views on how to help Maui right now and that not everyone sees things the same way, and that's okay! We know we all just truly want to help Maui and we believe the collective efforts from all angles will accomplish this.
Because of the location of our condo inventory, we believe it would be beneficial to the people of Maui for our current guests to consider keeping their reservations, and for future guests to not shy away from visiting Maui in order to support the businesses that rely on your presence. Of course, utmost sensitivity and respect for the tragedy and for the locals you interact with should be on your minds and hearts as you travel, and traveling to West Maui (Lahaina/Kaanapali) is discouraged right now. But we believe that taking a vacation to South Maui may be one way you can support the community as a whole and help it get back on its feet.
UPDATE: 8/14/2023
The island of Maui is extremely grateful for the outpouring of support from the community and government agencies like FEMA. Extra equipment, specialized personal, and emergency personnel have been sent over to help with the recovery providing the needed margin for our County first responders. While the West Side: Lahaina and Kaanapali remains closed down, the rest of the Island is open. All of our condos are located in Wailea, Kihei, and Maalaea Harbor, we are grateful to report our roads, beaches, restaurants, and commerce are fully open and accessible. Aside from a certain portion of upcountry, this is true for the rest of the island, including East Maui and the Road to Hana.
There has been a lot of confusion about whether one should still come to Maui in light of the circumstances which we would like to help clarify. The quick answer for those who planned on staying in Lahaina or Kaanapali is No, that portion of the island is inaccessible for non-essential personnel. If you are staying in any other area of the island the answer is, Yes. Especially for those arriving in September and beyond. Our economy is largely based on the support of tourism. Restaurants, activities, shops, and the hospitality industry are all dependent on a continuing flow of visitor support. If you have advance reservations please consider keeping them or giving it more time before cancelling.
Below is a short video interview from the August 12th press conference. The question asked of the Governor and the Maui County Mayor was, "Should current guests leave the island and what about those with plans to come?"
UPDATE: 8/11/2023
Aloha to our Incoming Guests,
As you are likely aware by now, Maui has been experiencing a series of wildfires that were fueled by strong winds and downed powerlines. This lead to power outages, cell phone service outages, and several evacuation orders in certain areas. We are eternally grateful to the first responders who worked tirelessly over the last few days to quell the immediate dangers throughout the Island.
The safety of our guests is our primary concern. We are grateful to say that South Maui, the towns of Kihei/Wailea were unaffected by the fires so if you wish to keep your reservation in place you may absolutely do so, but we'd like to provide you with some flexibility in light of the current situation here in Maui. If you have a reservation that has been paid-in-full for ARRIVALS BETWEEN 08/09/2023 – 08/31/2023 and you wish to reschedule or cancel your reservation, please send in your request by email and include your booking number (i.e. BKG or RES). We will provide a full refund, less a $100 cancellation fee (half of which will be donated to Maui Fire Relief). We will be responding to your emails in the order of closest arrival date, so please be patient with us as we work to get through this extremely high volume.
Calls To Office:
At the moment, we are only receiving calls for those needing immediate assistance from those currently on-island and in-need of immediate housing. We kindly request that those with stays arriving after August 15th refrain from calling into the office so that we can keep these lines clear for those needing immediate assistance. Instead, we ask that you send in an email with your inquiry and we will get back to you as soon as we can.
Our thoughts and prayers are with all of those deeply affected by these events. We have a strong and resilient community here in Maui, we will make it through this together. We thank you for your understanding and support through this difficult time.