Visit with Hawaiian History and Culture in Lahaina
By Kathy Englert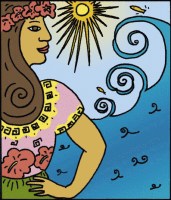 Lahaina has been the capital city of the Hawaiian Kingdom, a whaling port, a quiet town with a world class fish market, and now it is hub for visitors and locals alike. Lahaina combines the best of Maui's past and future.
Lahaina also boasts the very best Luaus on Maui, and no trip to Hawaii is complete without a Luau. But before your luau, which will start about an hour before sunset, spend a day in Lahaina soaking up the history and fun that the town embodies.
Free parking in Lahaina is scarce, so save yourself the headache and just pick a lot close to your destination and pay for the day. Once you've parked, head down to Front Street, the sidewalks are wide and provide frequent views of the oceanfront. Front Street is crammed with shops and restaurants; everything from swimwear to jewelry to vintage maps and posters can be found here.
If you plan to get an early start to your day, breakfast with an oceanview should be on the itinerary. Try the Pioneer Inn's pancakes, in addition to traditional buttermilk you can have them made with coconut, macadamia nuts, or bananas. The view of the marina is first rate from this historic inn's restaurant.
Lahaina hosts several cultural attractions in addition to shops and restaurants. The Lahaina Restoration Foundation maintains nearly a dozen historical sites, including five museums. The Baldwin Home and Wo Hing Museums are both on Front Street within easy walking distance of shops and restaurants. For fans of live theater, check out Ulalena at the Maui Theatre.
For lunch try the Cool Cat Cafe, voted the best burger on Maui for 5 years in a row. Cool Cat's upstairs location near the Banyan tree provides a terrific view of Front Street, the Banyan tree, and the ocean. Cool Cat is a great place for a family to enjoy lunch in Lahaina.
For a meal with a more elegant ambiance, make a reservation at the Pineapple Grill. Their menu is a modern blend of influences from around the Pacific with a focus on island cuisine. The Pineapple Grill is in the heart of Kapalua Resort, overlooking the Bay course of the Kapalua Golf Club about 30 minutes north of Lahaina on the Honoapiilani Hwy.
Finally, no trip to Hawaii, especially Lahaina, is complete without a Luau. For the best food a luau has to offer, and no buffet lines, make a reservation with the Feast at Lele. The Feast is hosted at 505 Front Street with paid parking directly across the street. For a wonderful, moving show and an excellent buffet, make a reservation with the Old Lahaina Luau. Choose traditional seating (on mats next to the stage) or conventional (chairs), and make your reservation well in advance. The Old Lahaina Luau regularly sells out four to five weeks prior.