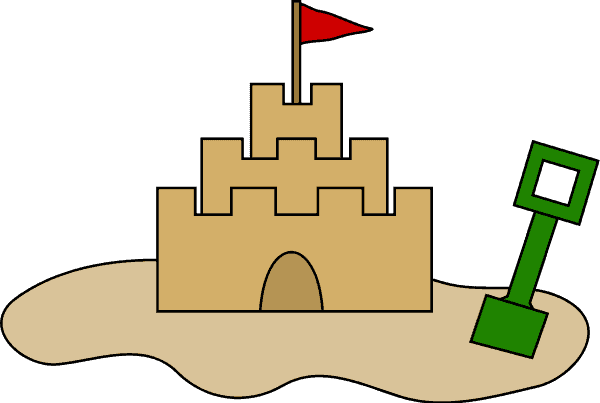 First, some basics. We all know that a sand castle is built from sand and water, what you might not realize is that the very best (the tallest and sturdiest) sand castles are built from very fine, very wet sand. So where along Maui's beautiful coast can you build an architectural masterpiece?
Sugar Beach is, hands down, the very best beach in South Maui for building sand castles. This terrific beach is a favorite of locals and visitors and only a short drive from our Kihei Condo Rentals. This long, quiet beach is also a favorite for its great sunsets, stand up paddle boarding, and wind surfing. Sugar Beach's miles of shoreline are covered in fine, silty sand that is quite cohesive. If your staying in one of our Wailea vacation rentals, Wailea Beach is also an excellent sand castle beach. Both feature lots of fine sand and plenty of room to work, however, Sugar Beach lacks the amenities of Wailea Beach while Wailea beach is rarely as quiet at Sugar Beach. If your budding builder is using Tonka trucks during castle construction, Wailea is probably your best choice. If your weekend structural engineer brings a slide rule with his bucket and shovel, head on out to Sugar Beach.
Next, find a nice level spot at our beach of choice. Look for an area where the sand is wet (less than an inch of dry sand on top) but the waves aren't an issue. The best time to start construction is while the tide is going out, this will give you plenty of time to finish your castle before the waves come crashing back up the beach again. Check out Swell Info or listen to one of the daily surf reports on the radio or local television to learn when low and high tide are each day.
All you really need to build a sand castle is sunscreen and time, but most prefer to head out with a couple buckets, a shovel or two, and some plastic utensils. Generally, a five gallon bucket is used to mix sand and water while smaller buckets can be used a molds. Shovels are very useful for mixing sand with water, digging moats, and piling up mounds of sand for castle foundations. Plastic utensils can be used for fine detail work, they are the pencils and paint brushes for a sandy canvas, so to speak. Many of our great Maui vacation condos have all the tools you want ready for you when you arrive, so you don't even have to stop at the store before you head out to the beach.

The real key to a sand castle, like any other structure, is a sturdy base. Sand that is full of water will compact under it's own weight, so you can quickly create large structures by gently shaping bricks or patties out of very wet sand and stacking them atop one another. Don't worry about too much water. The excess will run out of the sand quickly, leaving it slightly sticky but somewhat solid feeling. If there is not enough water in your sand, it will crack and buckle as you stack more weight atop it.
Once you've got a castle-shaped mound of compacted sand, you can start sculpting. Work from the top down, first with the basic shapes then again for fine details. Practice makes perfect, if your first castle isn't everything you'd hoped for, just give it a good kick and make plans to start again tomorrow. In fact, even if it does inspire awe and respect from passerby, give it a good kick and plan to start again tomorrow. It's only sand after all.
Other great beaches for sand castles include Baldwin Beach in Paia and Kaanapali Beach north of Lahaina. Don't forget your sunscreen and don't forget to take plenty of pictures.