Some visit Maui to hang out on the beach, eat at nice restaurants, and enjoy the amenities of their Maui Vacation Resort. That all sounds nice, but if that's all you do, you're missing out! Maui is an amazingly diverse island, and there is more to do than you can possibly fit into one vacation — or even several. So here's our suggestion for wading through all the available options. Experience Maui by choosing at least one option from each of these categories: Air, Land, and Sea.
Maui by Air
Helicopter Tours
If you don't like flying, and had to be bodily pulled onto your flight to Maui, then this one might not be for you. But for the rest, there is nothing like seeing Maui by helicopter. In fact, some of the best scenery on the island, and on our neighbor, Molokai, can only be seen by air.
Deep in the West Maui Mountains is Pu'u Kukui, the second wettest spot in the world. Since 1928 the rain gage at Pu'u Kukui has averaged 362 inches a year. This means waterfalls taller than you can see, and more than you can count. And imagine hovering right next to them!
And that's just the beginning. Across from The West Maui Mountains make is the dormant volcano Haleakala — 10,023 feet of pure majesty. At its top is Haleakala Crater. While you can drive to the top of the volcano, you will not get the same understanding of its awesome grandeur as flying above it. (The crater is not really a crater, but an "erosional depression." )
However, our favorite place to see by helicopter is not technically on Maui. (But you can take the tour from Maui just like any of the others.) The north shore of Molokai has the tallest sea cliffs in the world, 3,000 to 4,000 feet, and is home to some of the tallest waterfalls in Hawaii. Like the center of West Maui, this is one of those sites you cannot get to any other way. Even a small plane cannot get up into the valleys and get you the views that a Helicopter can. This is an experience you will  remember for a lifetime.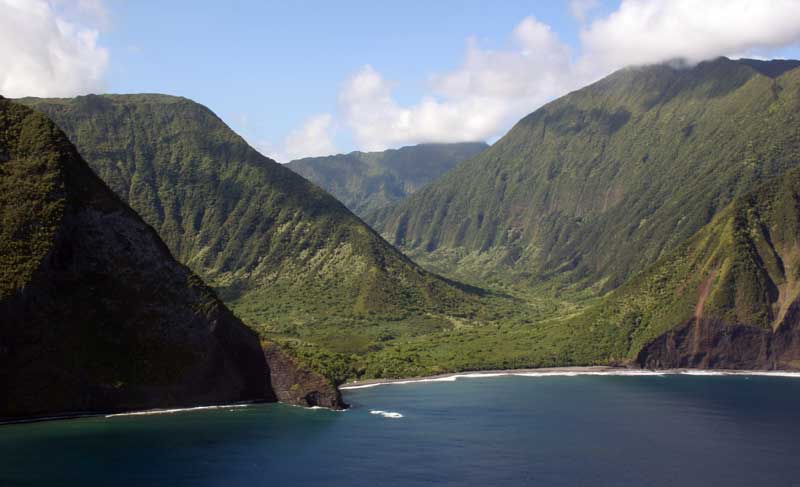 Parasailing
It could be argued that this is really a "Sea" adventure. But when you're gliding along at the end of the line under parasail, I think you'll agree that you're "in the air." And while parasailing is popular all over the world, few places boast scenery like Maui.
Also, this is one of the easiest things to do on Maui. You don't need any experience, special knowledge, or your own equipment. You just need a sense of adventure and willingness to try anything!
Parasailing is only available during the summer months, as winter is when our whale friends visit, and we like to keep things a bit quieter for their stay.
On the other end of the experience spectrum, you can…
Fly Yourself!
Are you a pilot? Yes, you can rent a plane on Maui and fly your own sightseeing tour! Maui Aviators has Cesna 172 SPs available for rent, and now there's even a Schweizer 300 CBi helicopter available for you helicopter pilots.  So whatever your experience level, there is an option for you to see Maui by air!
Get help planning your Maui Activities by visiting our Valley Island Concierge.
Next time: Maui by Land…