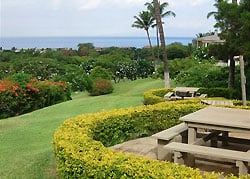 Are you looking for a spacious vacation rental minutes from shops, beaches, with pools, barbecue facilities, and terrific views of Wailea's elegant Emerald Golf Course? Check out our fabulous one and two bedroom Maui condo rentals at Wailea Ekolu. These spacious Maui rentals are just up the road from fabulous Wailea Beach Park and surrounded by the rolling greens of the Wailea Golf Club. Stroll down to the shops at Wailea for lunch at Cheeseburger in Paradise or to shop for a memento at Maui Divers Jewelry.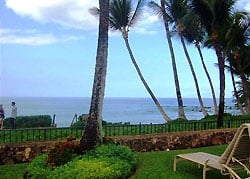 Perhaps a vacation on Maui means beach front accommodations. If you have your heart set on a condo by the sea, check out our rentals at Wailea Elua. These condos are located on Ulua Beach and boast an ocean view pool, ocean front barbecue areas, a tennis court, and the soft sand and sheltered waters of Ulua Beach Park. Our spacious vacation rentals have fully equipped modern kitchens and plenty of space to sleep up to five guests for less than $400/night. You won't find a better deal on ocean front condos anywhere!
Big Beach Parks for Big Fun in Kihei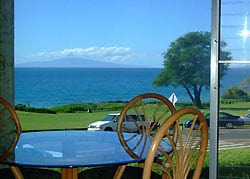 If you are planning a family vacation to Maui on a budget, you are probably looking for Maui rentals and activities that are as economical as they are entertaining. Look no further than Hale Kamaole for both! Our Maui vacation condos at Hale Kamaole sleep up to six people for less than $250/night. That's quite a price for an ocean view condo in Maui. Even better, Hale Kamaole has two pools, a large grassy areas for kids to run around, and is across the street from Kamaole Beach Park III. "Kam 3," as the locals refer to it, is a large park with lots of sandy beach, shade trees, and lawn for picnics. Pack some sunscreen and sandwiches before you head out, you'll want to spend the whole day at this great beach.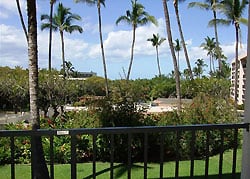 Just north of Kamaole Beach Park III is Kamaole Beach Park II and the Kihei Akahi Resort. These condos have two swimming pools and a tennis court on the property and the wide sandy beach of "Kam 2" just across the street. Kam 2 has a small but lovely lawn towards the south end, ideal for meeting up with friends and family to watch the sunset before heading to dinner at any of the excellent restaurants in Kihei. You can leave your rental car at the condo, Kihei Akahi is in the heart of Kihei. Walk up the street to the end of the condominium and enjoy the ocean view and a couple margaritas at Fred's Mexican Cafe.
We have so many great condos in South Maui available as vacation rentals. Browse our list of condos or search for a Maui rental that perfectly matches your needs. If you need help finding a condo or have questions about any of our properties, give me a call at 800-808-3138 or send an email to kathy@rentalsmaui.com for more information.