Dining Options close to your Maui Vacation Rental
By Kathy Englert
Kihei and Wailea are fantastic places to stay in a vacation rental on Maui. The best beaches on the island are close at hand, the coastal layout makes navigating a cinch, the weather is perfect everyday, and wonderful eateries are plentiful.
Breakfast at Da Kitchen is a Hawaiian experience. Local food and lots of it are on offer all day long, but the Loco Moco is an island favorite for breakfast. Breakfast is only on offer from 9am to 10:30am so get there early. Da Kitchen is in the Rainbow Mall (2439 South Kihei Road), across the street from the Royal Mauian Resort, north of Kamaole Beach Park II. The Rainbow Mall also has shops with swimwear and places to rent snorkel gear.
After breakfast, get some snorkel gear and head to Kamaole II. The best snorkeling is at the ends of the beach to the north and south. The long stretch of sandy beach is great for sunbathing (wear sunscreen), walking, and swimming.
If you are on vacation with your kids, they will likely want to spend the whole day at the beach. Whether you decide to picnic at the beach or you opt to get out of the sun, lunch from the 808 Deli is sure to be a hit. 808 Deli was started by a pair of brother as a take-away lunch counter, it's creative and delicious menu has made it a huge success. For lunch at the beach, grab a few sandwiches, some potato salad and fresh-baked cookies (or gelato) for dessert and head back to your beach towels and umbrellas. Otherwise, take your lunch back to your condo rental in Kihei and enjoy lunch knowing there won't be any dishes to clean up. 808 Deli is located at 2511 South Kihei Road.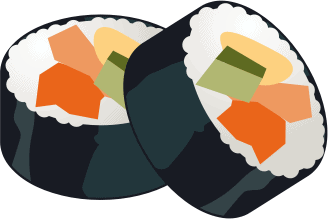 For an elegant end to the day, make a reservation at Sansei Seafood Restaurant at 1881 South Kihei Road. This popular restaurant features dozens of varieties of fresh sushi in addition to Japanese fusion entrees and a full wine list (including a wide selection of sake). The crowd that forms at the entrance on a nightly basis is a testament to the quality of the food and ambiance at Sansei. Sansei's bar is also a favorite for South Maui's karaoke crowd. On Thursday nights Sansei now offers a $50 gift certificate as a prize for the audience's favorite karaoke singer.
Both Da Kitchen and 808 Deli are within walking distance of several of our ocean view condos available for vacation rental in Kihei. Make a reservation with us and get ready for world class days at the beach.