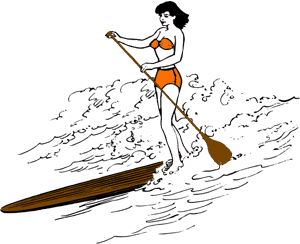 Stand-Up Paddle Boards have become a common site at many of Maui's Beaches. SUPs, as many surf shops call them, are a great way for anyone to enjoy the ocean. SUPs are at their best on days with little to no wind, and small swells; making them less intimidating to try than traditional surfing. The versatility of SUPs also attract many to the sport. SUPs can be ridden sitting, kneeling, or standing. They can even be paddled by hand, like a large surfboard.
SUPs come in a few different flavors: long, sleek kayak-style boards for long distance paddling in open water; the narrower, highly maneuverable boards for catching waves; and the most popular large, stable cruiser-style boards, ideal for catching small waves and paddling "down-winders" (short trips between nearby beaches). The versatile cruiser-style boards have a very short learning curve, making them the best choice for beginning stand-up paddlers looking to find their sea legs.
The most popular beaches for learning to ride an SUP are Kihei's Cove Park and Ukumehame Beach Park (aka "Thousand Peaks"). Both beaches provide small breaks when the swell is right, coral reef formations, turtles, even manta rays. Once you get a feel for paddling, there are lots of other places to get out on the water, too.
Join the "Dawn Patrol" at Sugar Beach. The long, sandy beach is sheltered by Maalaea to the north and extensive coral reefs to the south. The waters are sometimes murky near the shore, but just a few meters out the water usually becomes quite clear. Many paddle boarders launch from Sugar Beach and paddle south along Kihei's shore to Kalama Beach Park or one of the Kamaole Beach Parks. Most set out between the hours of 6am and 8am, before the wind and the sun become overbearing. Many residents paddle this route on a daily basis. Once you try it, you'll understand why. Sugar Beach is only about three miles from Waiohuli Beach Hale and Kihei Bay Surf Resort.
Ride the break at Launiupoko. By far, one of Maui's most popular beach parks. Even during the week parking overflows into the lot just up the hill from the light. If you enjoyed catching waves at Ukumehame, you'll love Launiupoko. The break here produces waves that are usually slightly larger and slower than the break at Ukumehame. An excellent opportunity to really work on your SUP surfing technique. Launiupoko is less than an hour drive from a condo in Wailea, and only about 30 minutes from most Kihei condos.
Wailea's beaches are also great for paddle boarding. The sandy beaches make launching and landing easy and the frequent rock outcroppings and reefs mean there are lots of different kinds of sea life to see. Take a waterproof camera and your snorkel gear with you and you are sure to get some really great photos of Maui's coral reefs. Get an early start with a morning paddle and then enjoy a leisurely brunch in your Wailea vacation rental.