Free Fish Facts for Your Maui Vacation
By Kathy Englert
Do your kids love learning the names of dinosaurs? Do they love nature documentaries? Or maybe you're the one that loves to learn new things about animals and plants. Either way, a visit to the Coral Reef Information Station in Wailea is sure to be as fun as it is educational.
The Pacific Whale Foundation has a naturalist at Ulua Beach in Wailea from 9 to noon, Sunday through Thursday, every week. The naturalists from the Pacific Whale Foundation provide information about Maui's reefs and the fish and other creatures that call them home. You can stop by the Coral Reef Information Station and learn all about Maui's coral reefs for free.
That's right, the Coral Reef Information Station and the naturalists there are available to answer questions or provide information about Maui's ocean at no charge.
Snorkeling is a popular activity for Maui's visitors because renting equipment is easy and inexpensive and all you have to do is find a bit of clear water and off you go. This free service from the Pacific Whale Foundation gives snorkelers in Wailea a chance to appreciate Maui's reef ecosystems even more.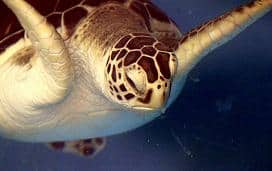 Ulua Beach borders Wailea Elua Village, is only half a mile from the Wailea Grand Champion Villas, and is less than a mile from the Palms at Wailea and Wailea Ekolu. From our Maui condo rentals in Kihei, take the Piilani Highway South into Wailea, turn left onto Wailea Alanui Dr at the Shops at Wailea, turn right on Hale Alii Place. There is a turnabout where you can unload your beach gear before parking in one of the lots alongside the street.
After visiting with the naturalist at the information station, you'll be able to tell all your friends back home about the butterfly fish, surgeonfish, and Humuhumunukunukuapua'a that you saw on your vacation in Maui.