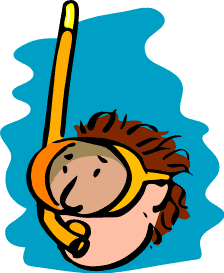 A vacation in Maui is almost synonymous with snorkeling. In fact, if you ask 100 people who've vacationed in Maui if they snorkeled, I'd bet 80 of them would say yes. It might be a more popular activity than surfing or attending a Luau for Maui visitors.
Why is snorkeling such a popular past time? There are lots of reasons. First and foremost, Maui's beautiful and unique coral reefs are full of fish, urchins, turtles, coral, crabs, and more. Many of them are species are found nowhere else on earth. The stunning ecology is simply too beautiful to miss.
In addition to the attraction of a beautiful and strange underwater world, snorkeling is an inexpensive activity. Most shops rent full snorkel kits: mask, fins, snorkel, carry bag, and fish guide for $10 to $40 per week. That's a great deal. Many even offer prescription masks for near-sighted snorkelers.
Finally, the trip is as enjoyable as the destination. If you're planning on a snorkel tour of Maui, you'll see quite a bit of our lovely island above the waves as well. A trip to La Perouse to snorkel means you'll have a chance to hike some of Maui's beautiful, undeveloped, south shore beaches and on the way back to your Maui rental you can grab a bite in Wailea and rinse off at one of the many beach showers. If you tour Molokini, you'll probably also get to do a bit of fishing and even whale watching if you visit in the fall or winter. One of the most beautiful places to snorkel on the entire island is Honolua Bay. It's a bit of a drive from our vacation condos in Kihei, but it is a pretty drive. North of Kihei, you'll drive past the Kealia Pond National Wildlife Refuge, a seasonal wetland area used as a feeding and nesting area for local and migratory sea birds. Next, the amazing views of Lanai from the "pali" (the sea cliffs between Maalaea and Lahaina, say "Pah-lee"). Finally, north of Lahaina and on to Honolua Bay, enjoy sweeping vistas of lush tropical rainforests, pineapple fields, and the island of Molokai. Of course, you don't have to go to the ends of the island to snorkel, but why wouldn't you? After all, you've got that mask for the whole week…