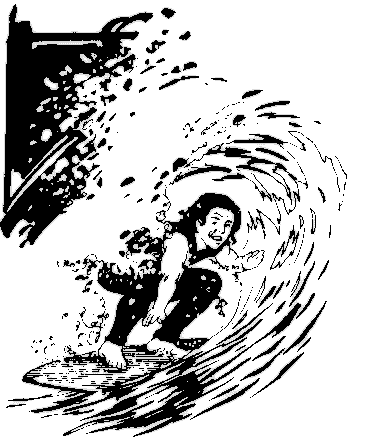 That's right folks. We've had two awesome south swells in as many weeks, if this keeps up Maui is sure to have a summer surfers will remember for years.
Most visitors to Maui, and residents that don't surf (honestly, there are a few), probably don't realize that winter is the major surfing season in Hawaii and the major surfing happens on our north-facing coasts. Oahu's famous North Shore is known world wide for the great big, hollow rolling waves that draw surfers each winter. Maui has Jaws, Hookipa, and Honolua for brave souls searching for twenty foot faces and death-defying glory.
But once the days lengthen in the Northern Hemisphere, the waves mellow as the storms that generated them fade into memory. Right now, as the Southern Hemisphere cools and its winter storms begin, our calm clear waters off the beaches in Wailea, Kihei, Maalaea, and Lahaina start to see swells. These storms are much further from the islands, so by the time the waves reach us they are smaller, especially on Maui, where our southern and western shores are buffered by the Big Island, Kahoolawe, and Lanai.
That doesn't mean there isn't some great technical surfing to be had in South Maui. During the last big south swell, there were surfers out at La Perouse Bay. There the swells come in big and fast, crashing into the reefs and giving brave surfers a fast ride over some very sharp rocks. Each year residents in Kihei watch for the famous Freight Train break. When a south swell hits Maalaea Harbor just right the wave can reach speeds of nearly forty miles an hour, that's a wave that can really blow your hair back.
Generally, swells come in from the south west and are knee to waist high. Just because these waves are usually a bit smaller doesn't mean that there aren't plenty of people looking to ride them. For the last two weeks, the breaks along Kihei and Wailea were full of experienced locals who couldn't wait to drop into the first great swell of the season. Of course, all these great waves are good news for the dozens of Maui Surf Schools and anyone looking to give this ancient and amazing sport a try.
Beginners in Kihei nearly always get their first surf lesson at the south end of Kalama Park, aka the Cove. The shore is sheltered by reef and lava rock, making getting into the water less intimidating as there is very little shore break. Once you paddle out to the reef the sets roll in slow and steady, perfect for finding your balance. Be careful though, when the tide is low the reef and rocks are only a couple of feet below the surface, if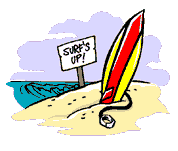 you're likely to stand on the bottom be sure to wear water shoes to protect your toes. A rash guard (the lycra shirts you see everywhere) is also a crucial piece of gear for surfing. No matter how dorky you might feel when you put it one, it's way cooler than a raspberry on your chest and arms.
So there you have it. Aloha from Maui; the sun is shining, the waves are rolling in, and we've got a great place you can crash. Check out our Maui condo rentals overlooking the beach in Kihei or our Maui vacation rentals on the lush Golf Courses of Wailea.