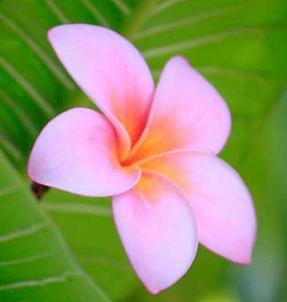 By Kathy Englert
Vast swaths of lush green foliage covering majestic peaks and valleys formed over the course of generations; this is the experience that is Iao Valley. Located just minutes from the hustle and bustle of Maui's business and governmental hubs of Kahului and Wailuku, Iao Valley sits tucked away on the mountainside just above Old Wailuku Town. Venture up the road past Maui central governmental buildings and you will find the air quickly changing from hot summer day to cool spring breeze. Continue up the road and watch as the formerly man made scenery quickly gives way to lush rain forest amongst the aforementioned towering mountain peaks; it is at this point you know you have arrived at Iao Valley.
Legend holds that Iao had once been the scene of a great battle in Hawaiian history; Great warriors from both Maui and the outer islands met here in an epic battle which is said to have turned the stream which runs through Iao red with the blood of the fallen. Thankfully, Iao Valley has not seen any such battle in recent history, making it the perfect place ot get away and enjoy one of Hawaii's most valued natural treasures.
As you cross the bridge making the entrance to Iao Valley, you will find two places with which to stop an enjoy the scenery. The lower park, the entrance of which is located just after this bridge, features a number of Hawaiian, Asian, and Portuguese buildings and artifacts inspired by the many groups who have called Maui home over the years. Additionally, you will find multiple spaces for a picnic, with covered tables, inbuilt grills, and other standard park facilities.
Drive farther up the road and soon you will find yourself at Iao's upper park area. A much larger, much more scenic area than the lower park, this is the place to go if you want to get the full Iao Valley experience. Here you will find multiple pathways leading down to the famous Iao stream, a small pedestrian bridge with fantastic views of much of the park below, and a stepped area which leads up to even more spectacular views of Maui's central plain, framed by the lush valley walls. Perhaps the biggest attraction however are the magnificent views of the famous Iao Needle. A spire rising up from the valley floor, Iao Needle represents the locations said to be the pinnacle of that legendary battle for Maui many centuries ago.
So much to do, so much to see, if you're thinking of exploring Iao for yourself, budget a few hours away from your waterfront vacation rental and spend the day strolling, hiking, and admiring this natural jewel of Maui at a leisurely pace. You'll no doubt come away with a whole new view of our amazing Maui getaway to share with your friends and family back home.