Now that you've picked out the perfect Maui vacation rental for you and your family on the South side of the island, what do you do next? As any repeat visitor to our island home can attest, Maui is a treasure trove of activities for outdoor enthusiast of all ages year-round. Of particular abundance, are the many wonderful water based activities throughout Maui's shores; from boat rides to shoreline swimming and much more! One such water activity that is also a guest favorite: Snorkeling.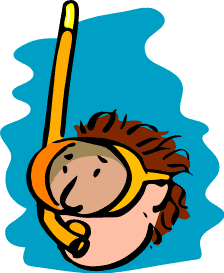 Requiring nothing more than an underwater mask and breathing tube (the snorkel) snorkeling on Maui is one of the most affordable yet rewarding experiences guests of all ages can partake in. Simply grab your gear, find a nice calm water spot, dive in and enjoy the scenic beauty of Maui's shallow coastline. While there are many places which to enjoy a good snorkel, there are a few in South Maui which come highly recommended by locals and visitors alike:
1. Kamaole Beach 1, 2, and 3.
Running a bit past the halfway point of Kihei down into Wailea, the beaches of Kamaole provide many fantastic underwater sightseeing opportunities to snorkelers thanks to abundant rocky outcroppings and reefs teeming with underwater life forms, as well as wonderfully warm white sand beaches with which to relax upon in between snorkel sets.
2. "The Reef" between Ulua and Keawakapu
A bit past the end of Kamaole Beach 3 but before the official entrance to Wailea lies the beaches of Keawakapu and Ulua. At the edges where these beaches meet you will find even more fish, coral, and otherworldly marine life attached throughout the reef area which borders the two beaches.
3. La Perouse Bay
Venture further out past Wailea and you will come upon a bay that is virtually all rocks known as La Perouse Bay. Thanks to the almost exclusively rocky shoreline this Bay is teeming with Hawaiian marine life of all shapes and sizes, making La Perouse one of the absolute best places to snorkel on Maui.
These are just a few of our top pics of places to snorkel while on vacation in Maui; if you would like more ideas or recommendations contact us directly or via Facebook today. Mahalo!