We're going to let you in on a secret. Are you sitting down? Maui… is an island! Okay, maybe you knew this already. Maybe beaches, sand, and surf are one of the reasons you want to visit. But the ocean isn't just a backdrop to your vacation – it's a destination in its own right. We blogged last time about seeing Maui by land. We finish up with…
Maui by Sea
Whale Watching
Humans are not the only visitors to Hawaii. Every year, after spending summer in Alaskan waters feeding, North Pacific Humpback whales come to Hawaii for winter. Typically, the first sightings of these gentle giants occurs between November and December and stay in our warmer waters as late as April. Winter is birthing season, so many whales are born here, and then return each year. This makes whale watching during winter months one of Maui's best known activities. You can, of course, whale watch from anywhere you can see the ocean. But if you want the best experience, you need to get out on the water.
Your choices when it comes to going on a whale watch tour are almost endless. From the small, fast rafts, to sail boats, to large stable catamarans, there is a whale watch trip for you. The whales are protected, and boats are only allowed to approach within a set distance. But the whales don't know the laws and will often come and check out the boats. It seems they may be as curious about us as we are about them. And don't forget to get in shape for whale watching! You'll need to exercise those facial muscles; practice excessive smiling, laughing, and eye widening.
Snorkeling
There are snorkeling options for any budget or experience level. You can simply rent some gear and go off to find your own adventure, or take a boat trip to a specific snorkel location. Or… both!
With miles of swimmable beaches, more than any other Hawaiian island, It's no surprise that one of the best activities starts right from Maui beaches. There are snorkeling spots all over Maui. From Honolua Bay in West Maui to Turtle Town in South Maui, you will find a spot close to your Maui vacation rental. And you don't have to go to a "named" spot. The fish and turtles don't know they're supposed to stay where they're pictured on a map, so you can get into the water from any beach near you and see marine life.
If you aren't the best snorkeler or are a complete beginner and want a bit of training, then a boat trip is for you. You'll be able to enjoy a more complete snorkeling adventure and see much more than if you were to try and explore the ocean yourself. One of Maui's premier snorkel locations is Molokini. If you're staying at a South Maui condo, then you can probably see Molokini from shore.  A partially submerged volcanic crater, today Molokini is a Marine Life Conservation District and home to about 250 species of fish. Boat trips leave from Maalaea boat harbor or the Kihei boat ramp and are half day morning excursions.
Like whale watching, there are boats of all shapes and sizes to choose from. If you're a bit more adventurous, then pick one of the raft trips. Or if you're a certified scuba diver, or just want to take an introductory dive, then choose a dive boat. If you want a larger boat or something with a water slide and a barbecue, then one of the catamarans leaving out of Maalaea harbor is the way to go. Either way, taking a snorkeling excursion is one of the best things to do on Maui. Remember, most of Maui is under water!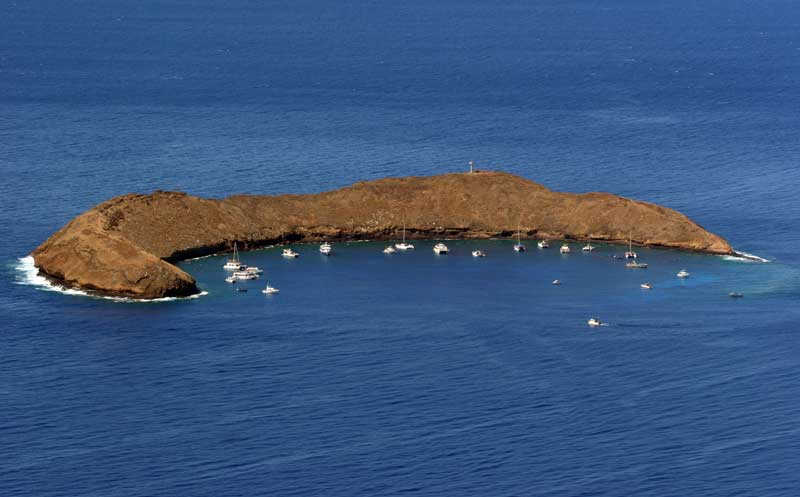 Get help planning your Maui Activities by visiting our Concierge.