Photo Courtesy of: Skyline Eco-Adventures
Free yourself with Skyline Eco Adventures on Maui. There is no experience quite like flying above Maui's tropical forests with the wind in your hair. Bask in the exhilaration with a zipline adventure. Skyline Eco Adventures was the first zipline company in the United States. They are highly committed to the island, with a focus on preservation of the Hawaiian culture, landscape and wildlife. Since 2002, Skyline Eco Adventures has donated over $1 million to non-profits around the Hawaiian Islands. Tours vary and start with children either 8-years or 10-years and up. You can choose between the Haleakala Mountains and the Ka'anapali beaches.
The Haleakala location allows you to fly through lush greenery including a fragrant Eucalyptus forest! It was named Fodor's Travel 2016 most amazing zipline in the world. The standard tour takes about an hour and a half and includes 5-lines. You can also choose the Bike N' Zip tour which includes watching the sunrise at the Haleakala summit, biking down and zipping through the forests. Expect to soar over 90-foot drops and walk across a swinging bridge high above a canyon. Knowledgeable guides will also walk you through Hawaii's flora, fauna and culture as you move from one location to another in the Haleakala forest. From your rental in Kihei this beautiful upcountry drive along the HI-37 should take approximately 40 minutes.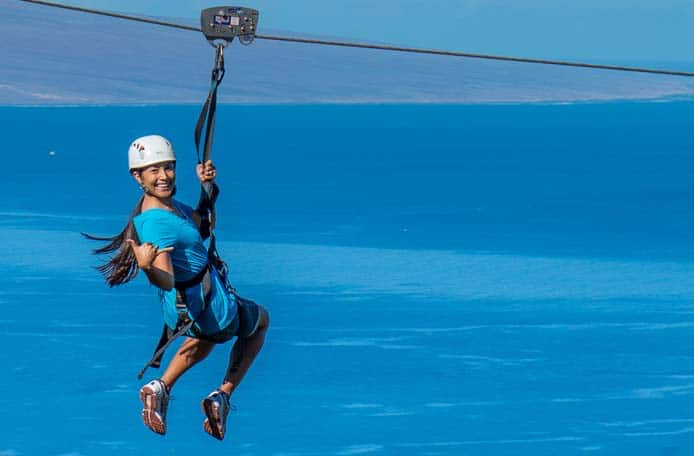 Photo Courtesy of: Skyline Eco-Adventures
On the West side of the island is the Ka'anapali zipline where you will soar above the Pacific Coastline. This location offers a choice between either 8 or 11 lines. The 8-line tour will take about 3.5 hours, including a snack break and lots of commentary on Hawaiian culture from the friendly tour guides. The 11-line tour takes about 4 hours and includes a double racing line, where you can challenge a family member or friend to see who finishes faster! The stunning coastal drive from your vacation rental in Kihei to Ka'anapali on the HI-30 will be slightly longer at approximately 1 hour.
Don't miss out! Book your vacation rental in South Maui today and contact Skyline Adventures to experience Maui from the sky.